Welcome to our Web Site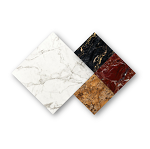 In the typical area of ​​marbles, Carrara, the company Marmi Tenerani trades and provides quality work on marble, granite, stone, onyx, travertine, and exports its products all over the world. Our company, being strong in experience and of a tradition handed down for generations, treats stone materials of all kinds having direct contacts with the quarries from which the materials are extracted and is able to cope with any type of need both for supply to large retailers and direct sales to the individual private.
Our History
 Marmi Tenerani was born in 1969 with Mario Tenerani, born and lived in Carrara, who was the founding father of the company and it is with him that Carrara knows the surname Tenerani for three generations. Start working as a craftsman producing marmette. After years of hard experience that allowed him a knowledge of the raw material, he consolidates the commercial relations to the quarries of Carrara and expands his market by opening contacts all over the world. His son Gianluca, who has been fond of stones and minerals since his youth, took his place in 1996. Full of inventiveness and inspiration, he leads the company to enter the field of design, collaborating personally with architects and designers. Currently, in 2017, the story continues with Nico Tenerani who joins the family business.